HANDLEBARS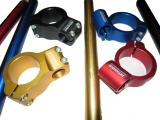 HANDLEBARS
Just an aesthetic factor? Absolutely not!
Serial production and project create a standard items which are the same for everybody and they do not take into account the various characteristics of everyone. That's a limit.
Our aim is to customize the drive position with the following advantages:
Best drive set up;

Better manoeuvring and motorbike control;

Longer pipes compared to the original ones (280m/m – Ø 22) with fast gear shift and 2 safe screws for pipe clamp diameter and 2 screws for fork clamp diameter;

You can open them whenever you like;

2 inclination levels, 5° or 10° degrees;

2 possible positions for height, straight or raised;

Made in Italy;
…….Ok Only at this point we can talk about aesthetics as we got something useful and pleasant to the view!
We have available 6 beautiful anodized colours.